It's the height of summer, but the weather is anything but balmy. Raincoats and jumpers are the order of the day, but that doesn't mean we can't have a good time in London this weekend. The city is always buzzing with energy, no matter what the weather, and there are plenty of things to do to keep you entertained.
1. Dance in the W11 streets at Notting Hill Carnival
Dancing, music and masquerade – make the most of the Notting Hill Carnival with our full guide to all the info, dates, timings details and tips.
For a lot of Londoners, Notting Hill Carnival on the August Bank Holiday Weekend flashes by in a blaze of feathers, Red Stripe and tinnitus. To those who make it happen, it's a year-round operation to create one of the biggest and oldest street parties in the world. This Carnival weekend, it's expected that more than two million people will flock to west London to dance in the streets of W11. It's free to join family day on the Sunday and the Monday which is for the hard partiers. It's a celebration of freedom and Caribbean culture, with an iconic parade showcasing the best of mas, soca, calypso, steel bands and soundsystems. What are you waiting for?
When is Notting Hill Carnival 2023? 
West London is getting taken over again with dazzling floats, kaleidoscopically dressed performers, rib-shaking soundsystems, the sweet, smoky smell of jerk chicken and steel bands over the August Bank Holiday weekend from Sunday August 27 to Monday August 28.
When is family day for Notting Hill Carnival?
Family day is on Carnival Sunday August 27 2023. The official opening ceremony will take place from 10am to 10.30am on Great Western road, before the children's day parade and Carnival Parade kicks off and runs until 5pm.
Which is the better day at Carnival?
If you're after a more chilled NHC experience, go for family day on Sunday, or if you like the sound of a hard-partying parade, make sure to go on Carnival Monday. The festivities kick off with an opening ceremony on Sunday morning, with the parade starting at 10am. Monday's adult's day parade starts at 10.30am and afterparties run until after dark. There's nothing stopping you from going both days, of course.
Do I need a ticket for Notting Hill Carnival?
The NHC parade is free for anyone to attend and everyone is welcome. But, if you want to join in with the parade, you need to be part of a group authorised to do so, or pay to join the procession. If you want to continue the festivities into the night, you will need to buy a ticket for one of the countless afterparties across the city.
Travel by tube:
As Notting Hill's roads will be closed off throughout the Bank Holiday weekend, you won't be able to get an Uber or catch a bus into the heart of the action. But there are plenty of nearby tube stations are within walking distance of the main event including Notting Hill Gate, which will be 'exit only' from 11am to 7pm each day, to accommodate the hundreds of thousands of people using the station that day. FYI: there will be no interchange between the Circle and District line and Central Line on both days.
Royal Oak and Westbourne Park will be 'exit only' from 11am to 6pm, with Royal Oak closing thereafter and Westbourne Park closing after 11.30pm. Also don't forget: Latimer road will be closed from 11.30pm on both days. Avoid Ladbroke Grove and Holland Park as they're both closed on Sunday and Monday.
Want a Carnival hack? Don't forget to pick a meeting point in advance for when you inevitably lose your mates in the crowd.
2. Glowing animatronic swans will fill the Thames at this year's Greenwich + Docklands Festival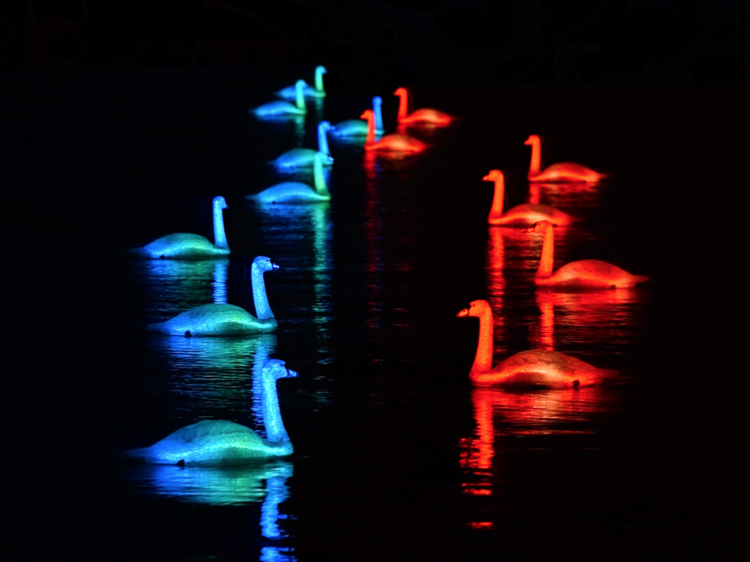 London's spectacular free outdoor Greenwich + Docklands International Festival is back for 2023. The free line-up once again features the sort of spectacular installations that have become its hallmark since the pandemic moved the focus away from street theatre. Look out for 'Cygnus' by Denis Bivour and Florian Giefer, which will see illuminated animatronic swans fill the Thames at the Royal Docks (Aug 31-Sep 3), the festival opener 'Open Lines' (Aug 25) and the return of GDIF regulars Greenwich Fair (a big Greenwich-wide family fun day on Aug 26).
3. Dance to Stormzy, The Strokes, Yeah Yeah Yeahs, HAIM, Erykah Badu and more at All Points East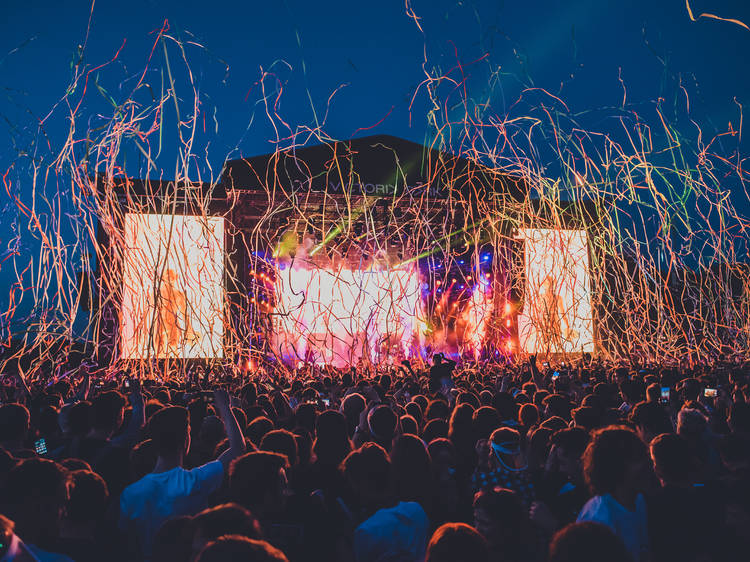 Since its inception in 2018, All Points East has earned a reputation for a varied blend of musical styles and genres. Back in Vicky Park for another instalment, it's confirmed big-hitting headliners Stormzy, HAIM, The Strokes, Jungle and Dermot Kennedy. The support acts are just as enticing, with the likes of Erykah Badu, Amyl and the Sniffers, Confidence Man, Angel Olsen, Tove Lo and more warming up the stage. This all comes bookended with free activities around the local area from In The NBHD.
Line-up: Stormzy, The Strokes, Yeah Yeah Yeahs, HAIM, Erykah Badu, Dermot Kennedy, Jungle.
This year's headliners are Stormzy (August 18), Field Day (August 19), The Strokes (August 25), Jungle (August 26), Dermot Kennedy (August 27) and Haim (August 28).
The rest of the line-up features a huge range of artists, from the Yeah Yeah Yeahs and Erykah Badu to Angel Olsen, Confidence Man, Sampha and Kehlani.
How to get tickets
You can get tickets for each day on the official website here.
Ticket prices differ depending on the tier and entry time you choose. Some dates still have primary entry available, and ticket prices can start from £57.05. However, it looks like it's selling out, so be sure to book now to avoid disappointment.
4. Tuck into six-course tasting menu inspired by fantastical tales at Six by Nico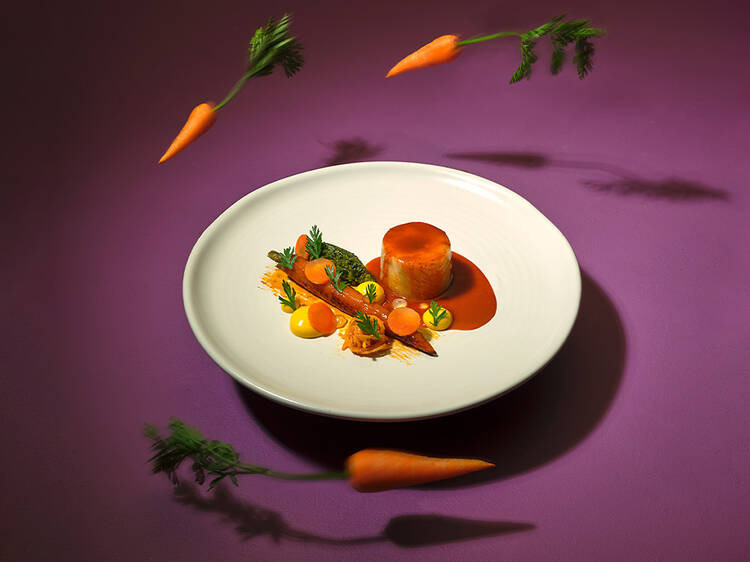 Get a nostalgic captivating dining experience, inspired by fantastical tales
Word about Six by Nico has spread across the country thanks to its novel concept: its ever-evolving six-course tasting menu changes every six weeks each time with a different theme inviting you on a journey of discovery to experience new flavours. Whether you are a food novice or connoisseur, enjoy a carefully curated experience with everything from an amuse-bouche to an indulging dessert. Right now you can tuck into the 'Once Upon A Time: Chapter II' menu inspired by fantastical tales.
Highlights
A carefully curated six-course tasting menu inspired by nostalgic memories
Offer also includes a glass of Prosecco
Vegetarian menu also available
Over 30% off
Time Out says
Famed for its ever-evolving restaurant concept, where the menu changes every six weeks, Six By Nico invites you on a journey of discovery to experience new flavours. Whether you are a food novice or connoisseur, enjoy a carefully curated experience with a six-course tasting menu with everything from an amuse bouche that pleases the palate to an indulging dessert. Enjoy the 'Once Upon A Time: Chapter II' menu, a captivating dining experience, inspired by fantastical tales that are sure to delight with every bite.
What's on the menu?
Once Upon A Time: Chapter II
Course One
Bird Pie – The Twits; Chicken & Duck Leg Ragu, Pickled Celeriac, Prune & Caramelised Puff Pastry
Course Two
Just Right Porridge – Goldilocks; Spaetzle, Barbecue Maitake, White Turnip, Black Garlic Dressing
Course Three
I Like Them, Sam-I-Am! – Dr. Seuss; Smoked Ham Hough Sandwich, Garden Pea Pesto, Egg Yolk Jam
Course Four
Dip Face, Have A Carrot – Matilda; Sole Ballotine, Tandoori Baked Carrot, Carrot Top Pesto, Lobster Jus
Course Five
I'll Huff, And I'll Puff! – Three Little Pigs; Pork Roulade, Pumpkin, Sweet & Sour Choucroute, Smoked Ash Emulsion, Bourguignon Jus
Course Six
Brucey! Brucey! – Matilda; 54% Chocolate Cremeux, Miso Caramel, Mango & Passion Fruit
Need to know
This voucher is valid for six courses and a glass of Prosecco at Six By Nico.
To redeem, please book here, with your preferred date and time. Please include your voucher, and security code in the comments section.
The Once Upon A Time: Chapter II menu will be available to book during the valid dates of this voucher. Please visit Six by Nico to view all menu options at both Fitzrovia and Canary Wharf locations.
The six-course tasting menu is priced at £48 per person with the option to enjoy an expertly selected wine. Specialist drinks pairing for an additional £35 at each restaurant.
All Six by Nico menus can cater to dietary requirements and can be made vegan upon request and if enough notice is given to our team of chefs.
Voucher valid until September 24, 2023.
Please present your voucher upon arrival.
Offer not valid on Saturdays.
Maximum booking of six people.
One voucher per person.
Menu subject to change.
The restaurant must be informed of any changes/cancellations – if the booking is cancelled within 24 hours of your booking, the voucher will be deemed to have been redeemed for the current booking and cannot be used towards a new booking.
Location(s): Six by Nico Fitzrovia, 41 Charlotte Street, London W1T 1RR and Six by Nico Canary Wharf, Chancellor Passage, London E14 5EA.
This voucher cannot be cancelled, amended, exchanged, refunded or used in conjunction with any other offer. For full terms and conditions.