From the famous Borough Market to antiques fest Portobello Road, here's our pick of the best stalls in town to pick up food, flowers, fashion and a whole lot more
Markets have been a central part of London life for centuries. Historically, they were a cornerstone of the community and the best place to go for the weekly shop. Of course, shopping habits have changed since then. The boom in supermarkets may have dented the market's popularity in the past, but thanks to a diversified offering and renewed support, both locals and tourists continue to flock to markets around the capital. Nowadays, there's a huge range of markets across London, from farmers markets and fashion markets to street food, vintage and antique markets. But if you're only in town for a quick visit, any one of these are worth making a beeline for. Here's our pick of the very best markets in London, from Borough Market's foodie stands to stalls filled with flowers on Columbia Road.
1. Columbia Road Flower Market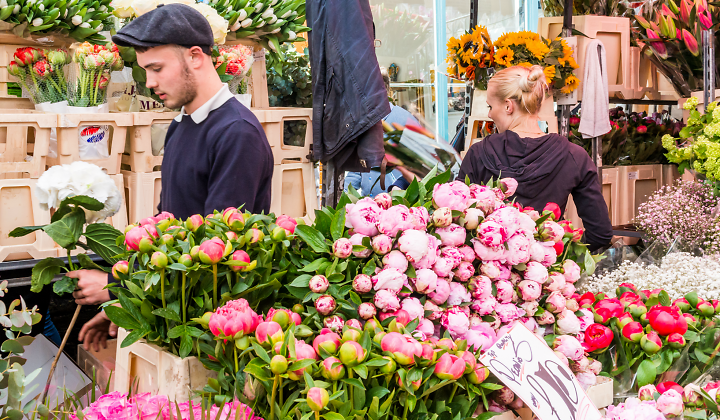 Situated just off Shoreditch's main drag, this weekly flower market is an East End gem. Every Sunday from 8am-3pm, the picturesque cobbled street is packed with traders selling bulbs, herbs, shrubs, bedding plants and bucketfuls of cut flowers. Flanking the stands are around 60 interesting independent shops and cafés, many open only at weekends. Arrive super-early for the best selection of flowers, or as the market's winding down to bag a bargain. In between, it gets very busy indeed.
————————-
2. Borough Market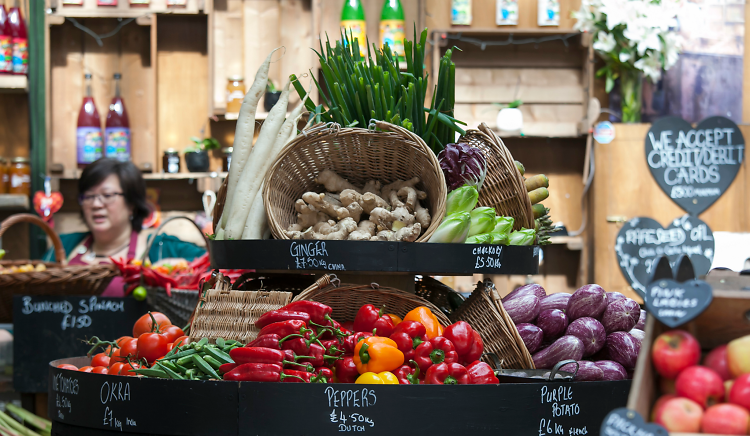 South Bank
Nestled next to London Bridge, this iconic food market has existed in some form since at least 1014. Though it still operates as a wholesale market in the early hours, it's now best known as a foodie's paradise where discerning Londoners come to buy top-quality meats, fish, fruit and veg, fresh-baked bread, cakes and sweet treats, oils and vinegars, and pretty much anything else they desire. There's also an amazing array of street food, and a dedicated covered area to chow down in. Borough Market is open Monday to Saturday, but you'll find the full selection of stalls from Wednesday to Saturday. It gets hella busy, so arrive bright and early to enjoy a more peaceful peruse.
————————-
3. Broadway Market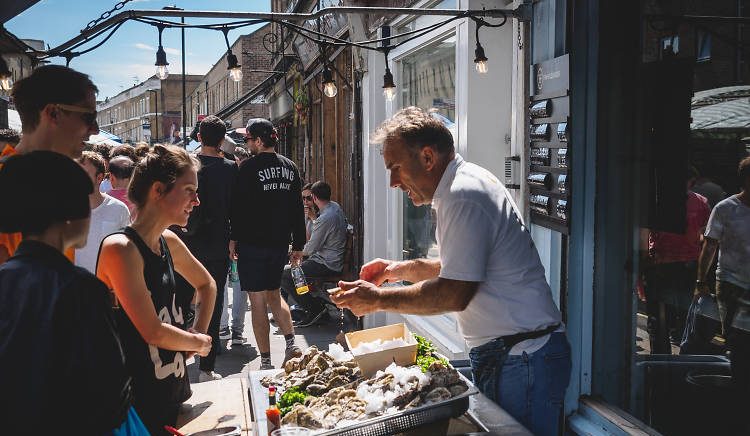 South Hackney
Since being relaunched in 2004, this Hackney street market has become a magnet for hipsters. Every Saturday from 9am to 5pm, it's packed with arty students and East End creative types who come to fill their tote bags with organic groceries, vintage clothes, fresh flowers, coffee, books and unusual handmade gifts. Broadway Market has so many street food options, it's practically impossible to go hungry here, though not everyone will have the stomach for a Yorkshire Burrito. The only downside is how busy its gets, especially on sunny Saturdays, so arrive early to beat the hordes.
————————-
4. Old Spitalfields Market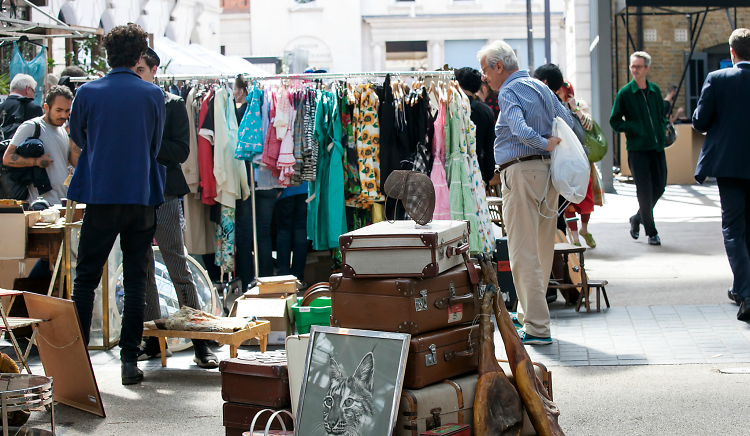 Spitalfields
Following its noughties rejuvenation, this covered market opposite Liverpool Street station has blossomed into a major shopping destination. Now open seven days a week, the central concourse is filled with stalls selling contemporary and vintage clothes, bespoke children's toys, home items and artisan food products. Inside, you'll also find a decent selection of permanent retail outlets and restaurants including popular chains The Real Greek and Las Iguanas. There's extra buzz on Thursdays, when it welcomes Old Spitalfields Antiques Market, a bonus cluster of stalls offering collectables and objets d'art from 8am to 5pm. And if you're still not shopped out, Brick Lane Market is a quick five-minute walk away.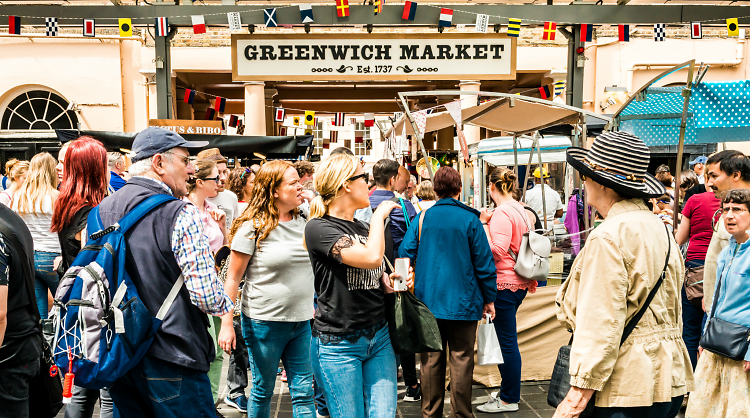 Though it's situated in historic Greenwich (in a World Heritage Site, no less), this eighteenth-century indoor market is no relic. Open Tuesday to Sunday from 10am-5.30pm, it's home to around 120 stalls selling jewellery, clothes, second-hand furniture, interesting gifts and general bric-a-brac. On Tuesday and Thursday you'll find more antique stalls; other days have a greater arts and crafts presence. Once you've refuelled at one of 40 food and drink stalls, you can pay a visit to the nearby Cutty Sark or Royal Observatory. Or just hop on a Thames riverboat back to central London.
————————-
6. Portobello Road Market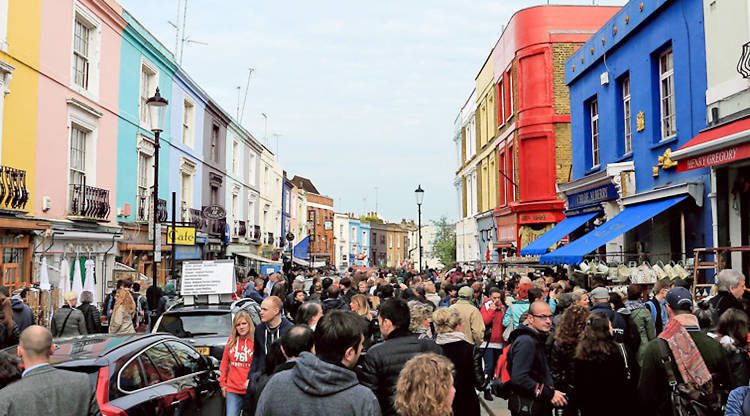 Portobello Road
The world's largest antiques market occupies a prime stretch of Notting Hill, an area that manages to feel diverse and surprising despite heavy gentrification (how Hugh Grant in that movie could afford a one-person flatshare despite working in a bookshop is beyond us) in the '90s. Portobello Road Market is really five markets in one, with different sections dedicated to second-hand goods; clothing and fashion; household essentials; fruit, veg and other food; and the main event: antiques. You'll find the greatest range of antiques stalls on Saturdays, when the market gets so busy that it's wise to arrive before 11am. Portobello buzzes on Fridays too, but this fascinating street packed with characterful cafés, shops and drinking spots is worth a visit any time.
————————-
7. Brixton Village and Market Row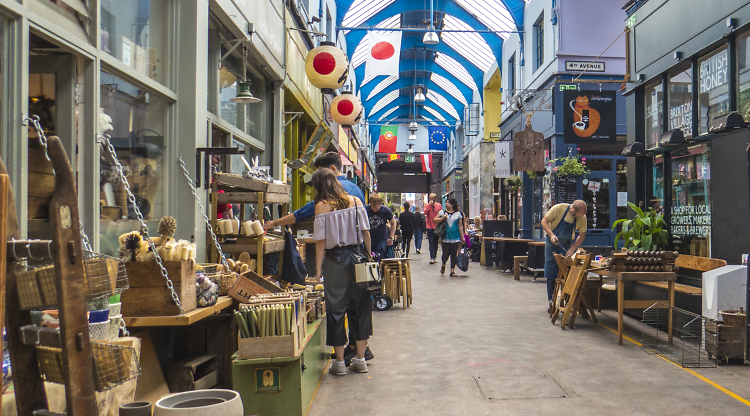 Brixton
Brixton is one of the capital's most vibrant and culturally diverse neighbourhoods, and these adjacent indoor markets reflect its unique and varied flavour. In recent years, they've become a gourmet destination where hungry Londoners can grab a table at places serving seafood, superior pizza, Portuguese cuisine, Mexican food, Jamaican/European fusion and all manner of Caribbean delicacies. But they contain plenty for shoppers, too. A leisurely amble through the arcades reveals a treasure trove of independent outlets selling clothing, jewellery, homeware, art, antiques and unusual gifts. Brixton Village and Market Row are open from 8am to 11.30pm every day, except for Monday, when they close early at 6pm.
————————-
8. Covent Garden Market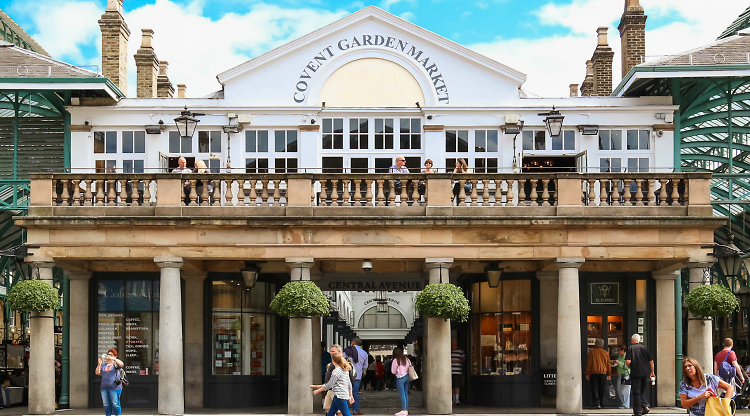 Covent Garden
his grand neoclassical building in the heart of Covent Garden is a London landmark. Since 1980, after traffic congestion forced the traditional fruit-and-veg market to relocate, Covent Garden Market has reinvented itself as a serious shopping destination. On Mondays, it's filled with stalls selling antiques and collectables; then from Tuesday to Sunday, it welcomes a broader range of traders offering everything from handmade jewellery to artisan soaps. There are plenty of permanent retail units, too, mainly housing fancy brands like Mulberry and Tom Ford. Once you're done exploring, which could honestly take hours, Jubilee Market across the piazza is great for gifts and trinkets.
————————-
9. Camden Market
Camden Market
Technically several adjoining markets, this sprawl of stalls stretching from Camden Town tube to the Regent's Canal is London's fourth most popular visitor attraction. Every week, around 250,000 people come here to shop, sample street food and soak up the distinctive, still-grungy atmosphere. Camden Lock Market is an arts-and-crafts haven while the Stables Market is a trendy spot for everything from quirky furniture to fetish clothing. Nearby Buck Street Market on Camden High Street (the one under a sign that reads 'The Camden Market') is best for T-shirts and touristy trinkets. The markets in Camden Town are open seven days a week and always seem to be buzzing.
————————-
10. Brick Lane Market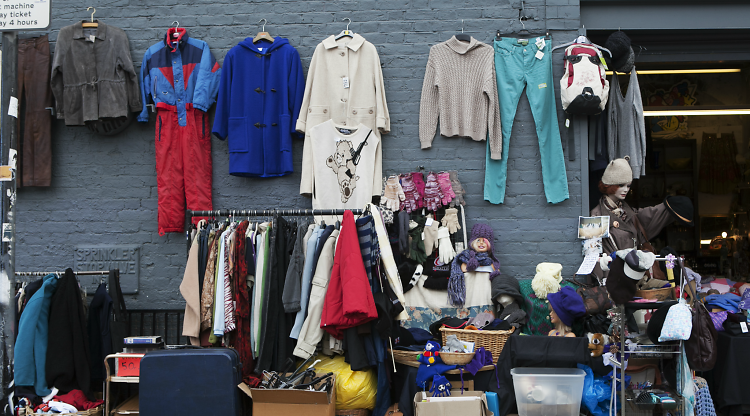 Brick Lane
On Sundays, the streets of East London's bustling Brick Lane are lined with stalls selling anything and everything. You're bound to find bargain fruit and veg, household items and electrical products, but this market's USP is its sheer unpredictability: you could bag a second-hard bargain, or spend hours sifting through trinkety tat. Brick Lane's recent 'trendification' is reflected in the various splinter markets that surround it. Visit Backyard Market for arts and crafts, Sunday Upmarket for street food and interesting gifts, The Tea Rooms for vintage bric-a-brac, and the Boiler House Food Hall for more snack and drink stalls. Brick Lane's various Sunday markets surely have something for everyone.
————————-
11. Alfies Antique Market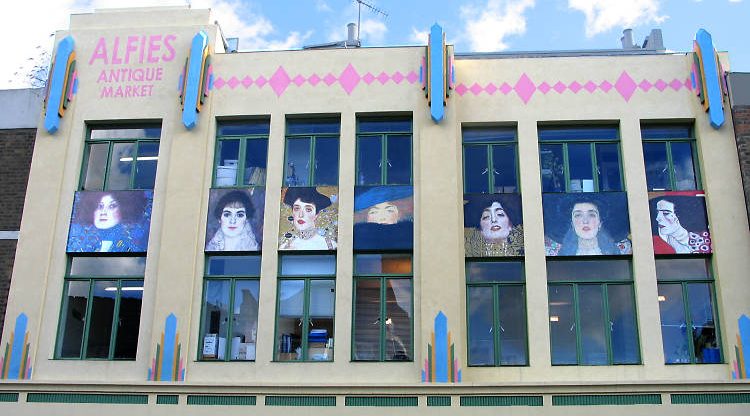 Marylebone
Housed in a huge Egyptian-style art deco building in Marylebone, Alfie's Antiques Market has been attracting collectors and casual buyers alike for more than 40 years. Spread over four floors you'll find around 100 different dealers selling an eclectic selection of jewellery, homeware, decorative items, memorabilia, furniture and artwork. Full-on bargains are few and far between, but that's only because the quality of goods on offer is so high. Alfie's Antiques is open 10am-6pm from Tuesday to Saturday; once you've found your dream objet, you can enjoy a bite and a tipple at the rooftop café, a famous sun trap.
————————-
12. Maltby Street Market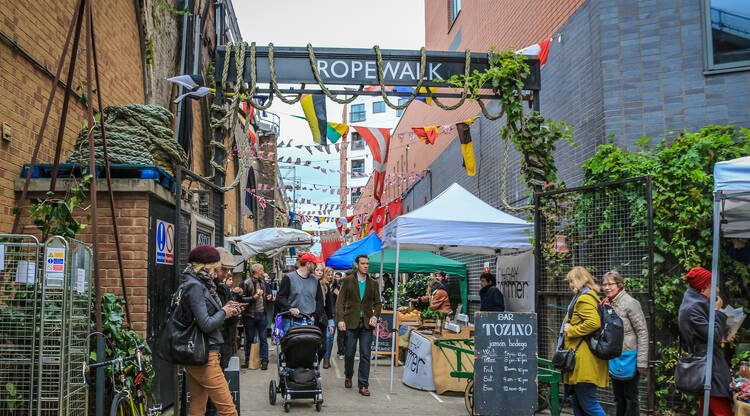 Bermondsey
Located in increasingly lively Bermondsey, Maltby Street Market is a bit like a calmer, more curated version of Borough Market. It's only been going since 2010, doesn't open during the week, and the tourists haven't quite cottoned on yet. So, if you can't face the masses, this is the place to come when you're having a Nigella moment and want to stock your kitchen cupboards with high-end condiments and tipples you can't get at Tesco. Nestled in and around the atmospheric Victorian rail arches of the Ropewalk you'll find around 30 artisan food and drink traders selling everything from craft beer to Mozambique-style peri-peri meats.
————————-