London is filled with events and gets a big bank holiday weekend to mark the King's coronation.
It's time to ring off a big long weekend in your calendar in regal purple. Yep, there's another big royal event on the horizon: King Charles III's coronation, and it's shaping up to be one big, long party. Plans for the shindig have been in the works since Charles took the throne back in September and the festivities are expected to include no less than two processions, a religious service and big ol' concert at Windsor Castle.
Whether you're a flag-wielding monarchist or a staunch Republican, there's no getting away from the celebrations and one thing we can all get behind as part of the proceedings is that Monday May 8 will be a bank holiday. So we can all *fingers crossed* bag an extra day off.
You'll probably be spared being marched up the Tower of London if you don't fancy taking part in the festivities. But if you do want to have a royally good time there's plenty going on across London in the name of a 'National Celebration'. Here are the best ways in London to celebrate the start of Charles III's reign in London.
When is King Charles's coronation and where is it taking place?
The coronation will take place on Saturday May 6 2023, eight months on from his appointment as King on September 8 2022. Get excited.
We'll all be getting an extra bank holiday to mark the occasion. Monday May 8 2023 has been named as the day. two days after the official coronation service at Westminster Abbey.
The ceremony will be held at Westminster Abbey. Charles will be crowned alongside the Queen Consort Camilla.
1. King Charles III Coronation Procession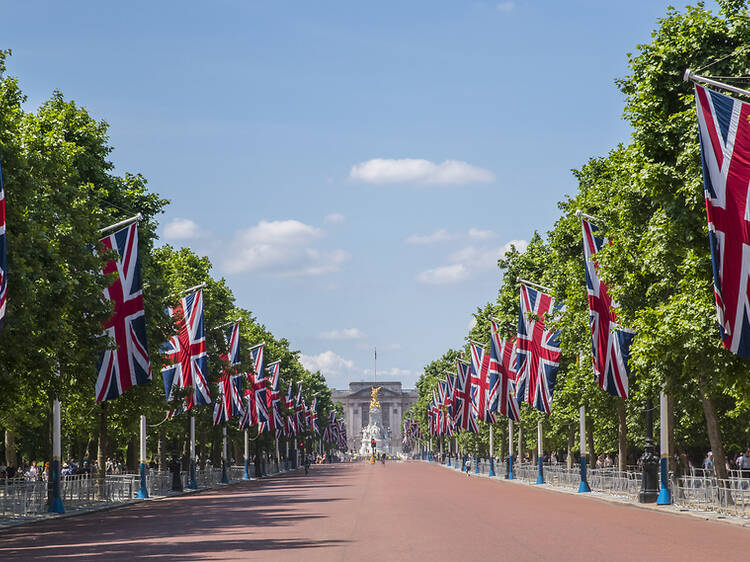 Heads of state, British VIPs and other important-sounding people will descend on London for the coronation of King Charles III taking place on the morning of Saturday May 6 2023. The service will take place at Westminster Abbey, but you'll have to have an invite in order to see that. However, if you still want to glimpse a slice of the action you can line the parade route to the service for free, also known as 'The King's Procession'.
The procession is due to start at Buckingham Palace and will head down The Mall before turning right around the corner of St James's Park, through the Horse Guards Parade, down Parliament Street before ending at Westminster Abbey.
Hundreds of thousands of people are expected to line the route, so best get there early if you want a front row spot. There'll also be screens in key areas if you sleep through your alarm.
2. The Coronation Concert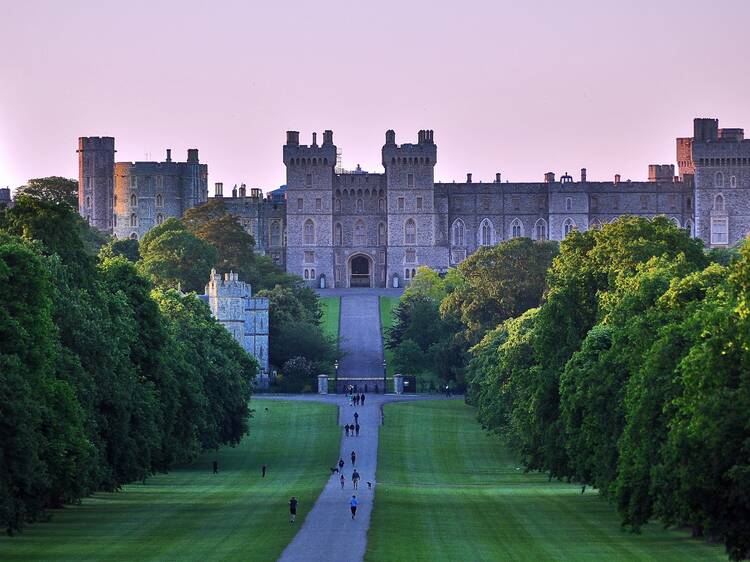 How do you celebrate a King's coronation in the twenty-first century? With a big ol' concert apparently. The Royal Family has confirmed a massive shindig will take place in Windsor Castle the day after King Charles III's official ascension to the throne, promising to 'bring together music icons and contemporary stars'. A world-class orchestra will play interpretations of musical favourites fronted by musicians and other performers and spoken word performances, all topped off with staging and effects on the Castle's East Lawn.
3. The Royal Palace at Madame Tussauds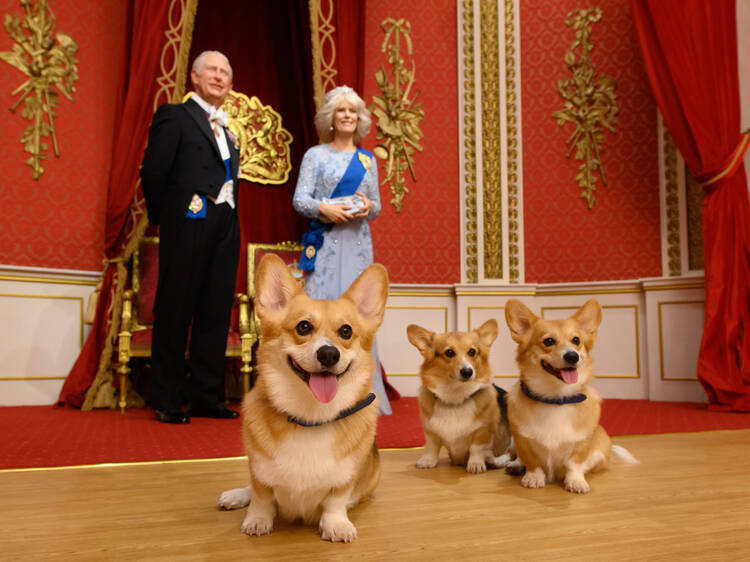 Marylebone
Step into Buckingham Palace and meet the Royals (kind of). Okay okay, it's actually a recreation of the Royal gaff at Madame Tussauds, but on your visit you'll be able to brush shoulders with the King and the Queen Consort (in wax form, of course) and snap as many pictures as you like, have a spot of afternoon tea and wave from the Royal Balcony.
4. Coronation Events at Biscuiteers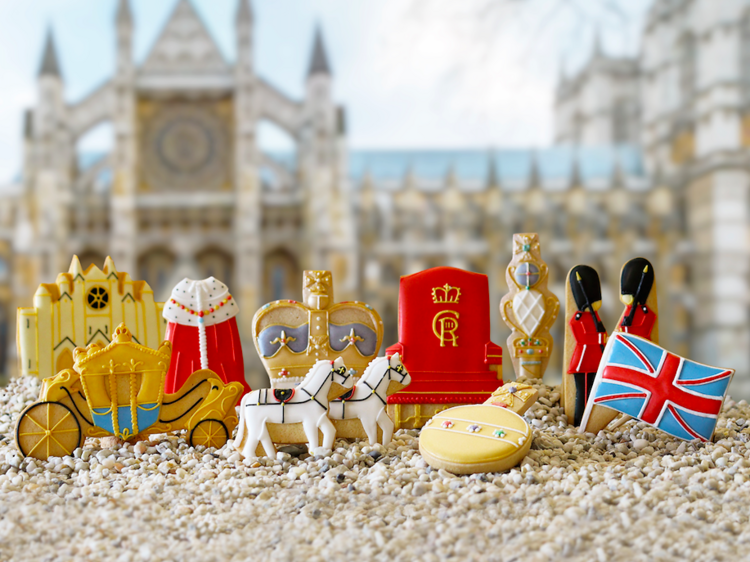 The expert icers over at bougie biscuit company The Biscuiteers are hosting Coronation icing masterclasses from their Belgravia and Notting Hill cafes. Serious about frosting? Join the two-hour long masterclasses where you'll learn everything from colouring, piping and feathering to line and flood icing to create your very own Coronation collection of biscuits (including doughy crown and Royal guards) which you can take home in a little tin. Just after a good time? Hit up the family-friendly DIY classes where you can craft your treats with a cup of tea on hand, or a glass of prosecco.
5. Mayfair's Coronation Garden Party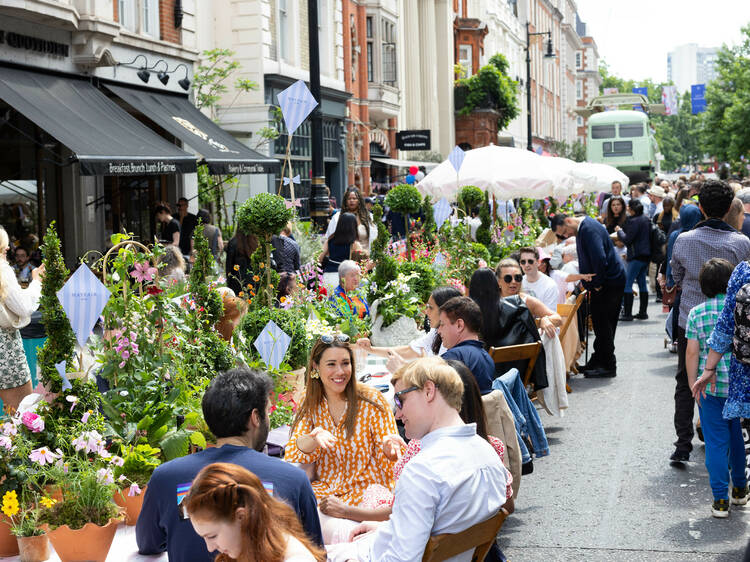 Grab a deckchair, sip on some sparkling wine and watch the Coronation on a big screen in Grosvenor Square at this garden party. The soiree will also include plenty of food and drink stalls, immersive floral installations, live music and special offers in the nearby shops and eateries.
6. London Eye 'Coronation Capsule'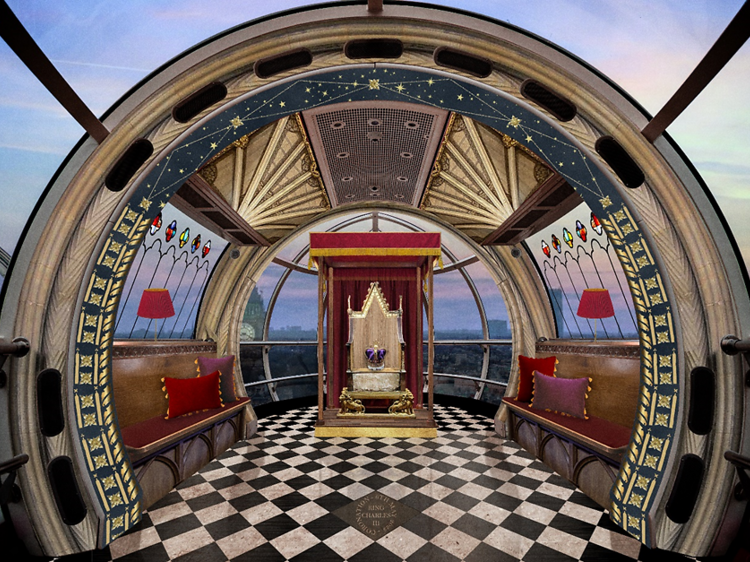 Feeling flush? Treat yourself to a regal ride in the London Eye as it's decked out to celebrate King Charles's coronation. One of the space-age glass pods will be decorated in the style of Westminster Abbey on coronation day, so you can sit in a recreation of the 700-year-old coronation chair, hold replicas of the crown jewels and sip champagne while rotating (very slowly) over the London skyline. The experience will set you back a hefty £60, a good £30 above the usual admission, but if it's fit for a King, eh?