Our latest rental market report reveals tenants are looking for larger homes outside of city centres.
The search for space in the face of the Covid-19 pandemic is driving a mini-boom in the rental market, pushing rents higher, our latest Rental Market Report shows.
The 'once in a lifetime' reassessment of housing needs seen in the sales market is also influencing the rental one, as people look for larger properties in commuter zones or well-connected towns.
The rise in demand in these areas is pushing rents higher, with the average cost of being a tenant in the UK, excluding London, increasing by 2.3% year-on-year, putting rents back to pre-Covid levels.
Overall demand has risen by 21%, with houses letting 30% quicker than they were 12 months ago.
Despite these increases, affordability remains fairly stable, and you will need an average of 32% of your salary to cover your rent.
What's happening in commuter areas?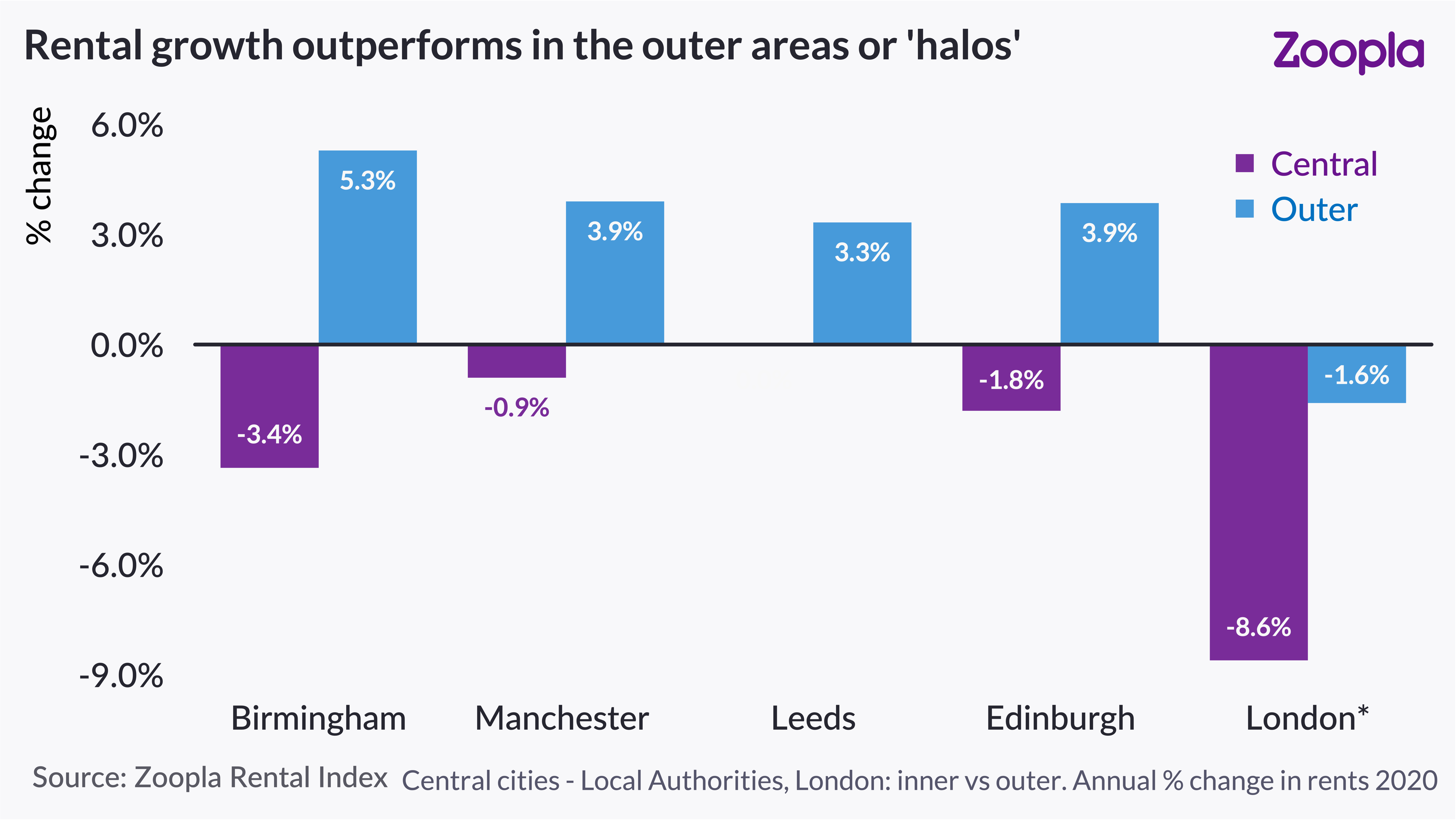 A halo effect has emerged in the wider commuter zones of the UK's largest cities as tenants look for more space, both indoors and outdoors.
Rents in well-connected towns have registered strong growth, rising by 8.2% in Rochdale, 8% in Hastings, and 5.8% and 5.5% in Southend and Newport in Wales respectively.
By contrast, the easing in demand in cities across the UK has led to a slight softening of rents in these locations, with rents dropping by 1.8% in Edinburgh year-on-year, while they are 0.9% lower in Greater Manchester and 0.8% down in Greater Birmingham.
As a result, if you are coming to the end of your current lease in a city centre, you may be able to make some savings by finding a new property.
But while rents in central Birmingham fell by 3.4% year-on-year, the cost of being a tenant in the surrounding boroughs of Bromsgrove, Sandwell and Wolverhampton has risen by an average of 5%, buoyed by demand from renters who no longer need to commute on a daily basis.
If you are looking to move into a commuter area, be sure to shop around to make sure you secure the best rental deal.
You should also be prepared to move quickly, especially if you are looking for a family home, as these are being snapped up.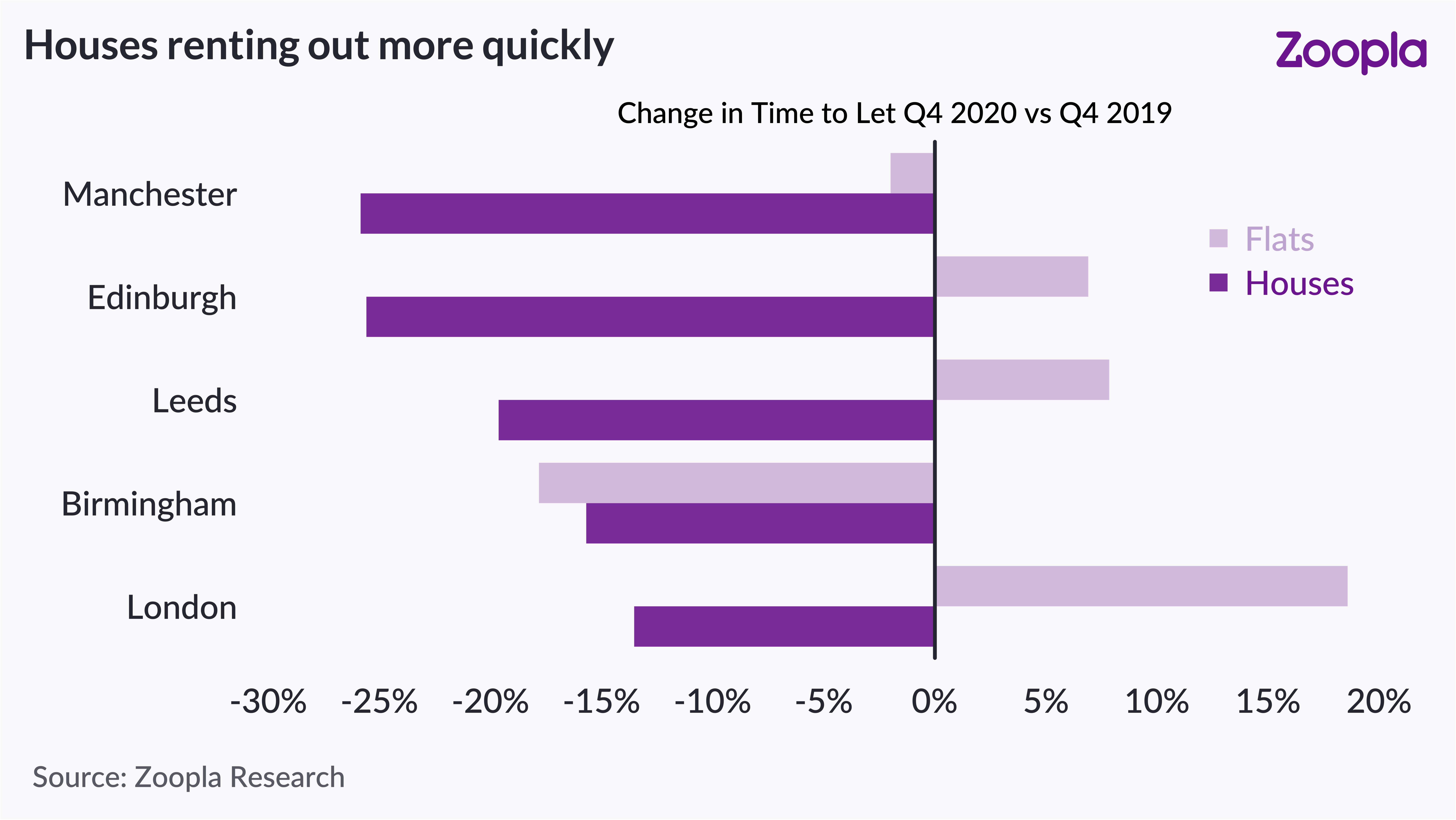 Try to build up a rapport with local agents in your preferred area, so that they can alert you when new listings that meet your criteria come on to the market.
What's happening in London?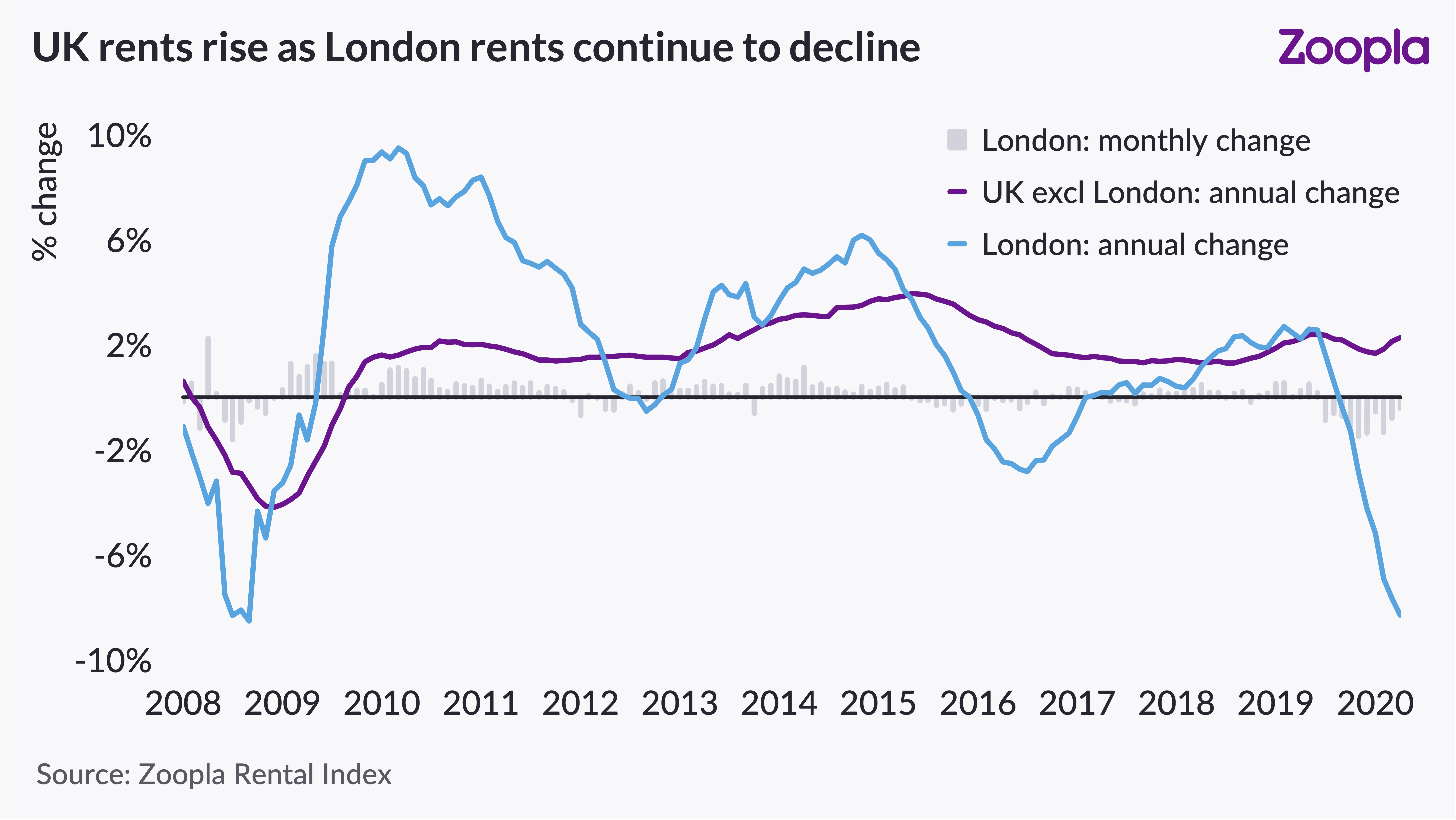 The impact of Covid-19 on the rental market has been amplified in London, with demand for properties in the capital down 10% year-on-year, on the back of working from home policies, reduced international travel and close to zero tourism.
These factors have led to rents in Greater London dropping by 8.3%, the steepest annual fall since the Global Financial Crisis.
But this fall is being exaggerated by declines in higher value, dense rental markets, such as Kensington and Chelsea.
By contrast, several outer London boroughs are still reporting rental growth, with the cost of being a tenant rising by 2.6% in the past year in Havering and by 1.1% in Enfield.
At the same time, the downturn in London rents is showing signs of easing, edging down by just 0.4% in December, the smallest monthly reduction since February 2020.
Meanwhile, new supply in London is up 30% year-on-year, creating more choice for potential tenants and exerting downward pressure on rents.
What's the outlook?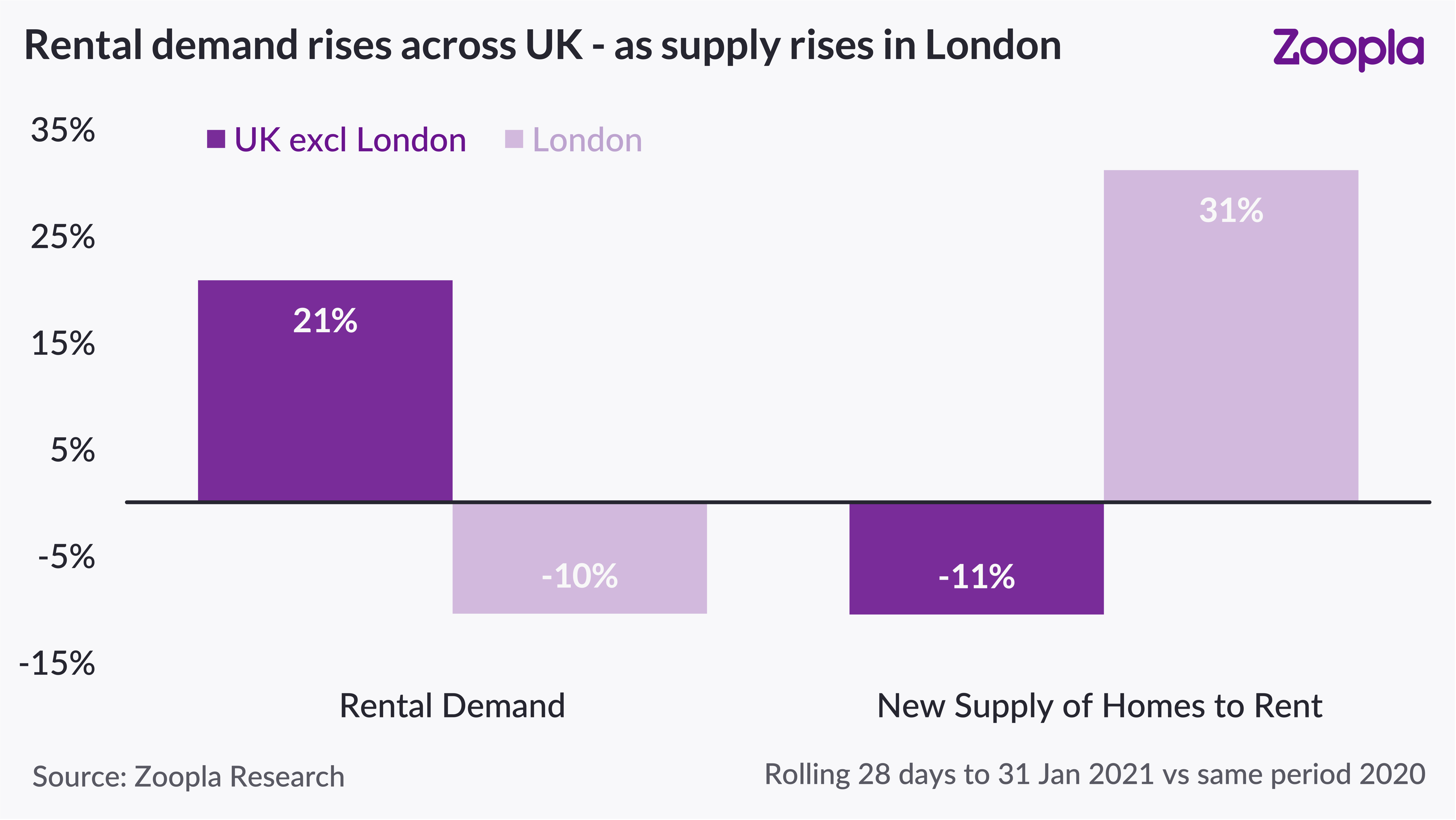 The outlook for the rental market depends to a large extent on how quickly a vaccine can reduce the impact of Covid-19 and enable normal business activity to resume, particularly in city centres.
Even then, flexible working is likely to continue, meaning there may be a permanent shift in priorities for some renters.
The demand for space is unlikely to diminish any time soon, which will continue to support the rental market for family homes.
Overall, the uncertainty created by the pandemic, rising unemployment and limited mortgage availability for buyers with small deposits will continue to drive demand for rented homes.
This demand, combined with a lack of new supply nationally, will support rental growth in the long run.
Our head of research,  said: "Changing working, commuting and tourism patterns were felt very quickly in the central London rental market.
"Now we are seeing the impact in other city centres, although on a more modest scale. Balancing the rental declines in inner cities is the strong rise in rental growth in surrounding 'halo' areas and well-connected towns across the UK, reflecting stronger demand in many of these markets among a cohort of renters.
"Yet it is important to note that most demand among renters living in central cities is within the same area – some renters will have ties to an area through schooling, or non-office-based work."