Discover a vibrant lineup of exciting events taking place in London throughout the month of June. Immerse yourself in the cultural, entertainment, and artistic offerings that the city has to offer during this time.
June in London is one of those months that's filled with a sense of excitement. It's that 'school's out!' feeling, until you remember that you left school years ago, and 'summer holidays' don't really exist for adults. Shame.
June is also the start of summer in London, which means the capital's beer gardens are at their prime, the city parks are at their prettiest, the open-air theatre season gets into full swing and eating alfresco is on the cards at some of London's best restaurants. Plus, expect to see long queues in south west London as tennis fans line up to bag a place at the epic Wimbledon championships.
1. Summer Exhibition 2023
it's back. The RA's annual showcase of all the artists you need to know about right now returns for its 255th edition to brighten up the summer holidays. The world's oldest open submission exhibition (which means anyone can enter their work to be considered for inclusion), the artist with the big job of sifting through the works and curating them this year is David Remfry. He'll be exploring the theme 'Only Connect', inspired by a quote from the novel 'Howards End' by E. M. Forster.  
Here are the three things you'll see at the Summer Exhibition
Big names
Now in its 255th year, the Summer Exhibition still knows how to get the big art names in. Expect work from the likes of Frank Bowling, Michael Craig-Martin, Tracey Emin, Gillian Wearing and the late Paula Rego, as well as Honorary Royal Academicians Mimmo Paladino, Pipilotti Rist and Kiki Smith. Newly elected Royal Academicians Roger Hiorns, Hew Locke, Veronica Ryan and Barbara Walker will be submitting works, as well as newly elected Honorary Royal Academician Kara Walker. 
Little names
The great thing about the Summer Exhibition is that it's open to all, and the selectors pick from thousands of entries. That means that your mate's mum's weird little whittled sculptures of George Michael might be shown alongside something by Antony Gormley. It's a good opportunity to spot an art star of the future. And also see weird stuff by your mate's mum.
And a huge amount of art
There are usually hundreds of works in this sprawling show. From miniature paintings to enormous canvases, architectural models to photography, there's something for everyone. And hey, most of it is for sale, so you may just be able to nab a bargain.
2. Serpentine Pavilion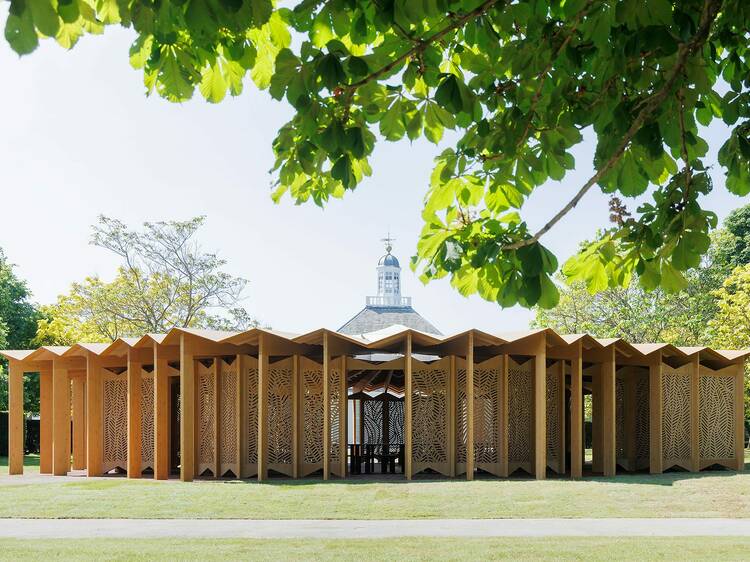 As sure as the sun will rise and winter will turn into spring, Hyde Park will play host to a new Serpentine Pavilion every year, and 2023's has just hatched into the world. This one was designed by French-Lebanese architect Lina Ghotmeh and is inspired by the Mediterranean urge to sit around a dining table and put the world to rights. The name of the pavilion is 'À table', French for 'sit the f**k down at the dinner table or you're going to get a whack around the ear'. The idea is that it's meant to make visitors think about the table as a place of discussion, engagement, dialogue and exchange, all while sharing a meal.
3. River Stage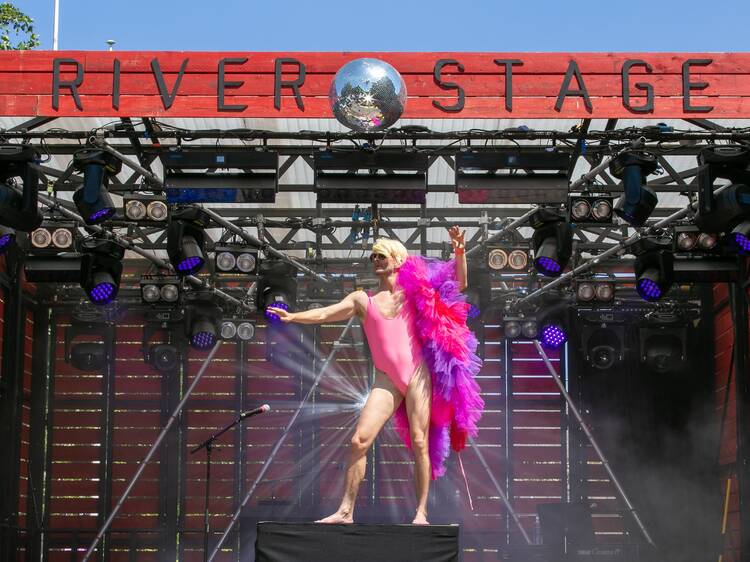 ✡
Theatre 
✡
Outdoor  
✡
theatres   
✡
South Bank
✡
The National Theatre's River Stage returns to the South Bank for a month of outdoor live music, dance, performance, workshops and family fun. Weekend evenings will see a varied programme of entertainment take place in front of the theatre, with special take-over weekends from The Glory, James Cousins Company, Shubbak Festival and Hackney Empire's Young Producers.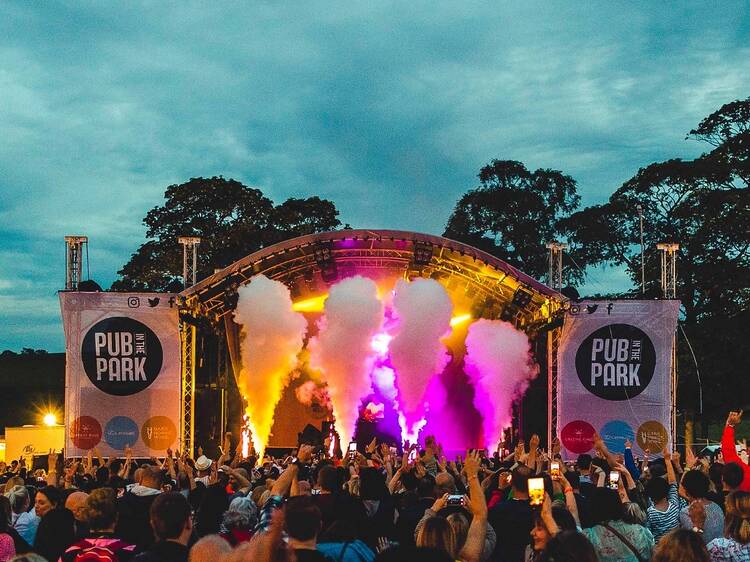 ✡

Things to do

✡

Chiswick 

✡

Presented by Michelin-starred chef and longtime 'Great British Menu' judge Tom Kerridge, Pub in the Park is a touring food and music festival that aims to bring a convivial public house atmosphere to the great outdoors with loads of delicious pub grub and equally enticing live performances. It calls in at Dulwich from 9-11 June. Cooking up a storm will be Kerridge himself alongside Adam Purnell and Simon Rimmer. While The Craig Charles' Funk and Soul Club, Heather Small and Republica will be a few of acts gracing the stage.
5. 'Newsies'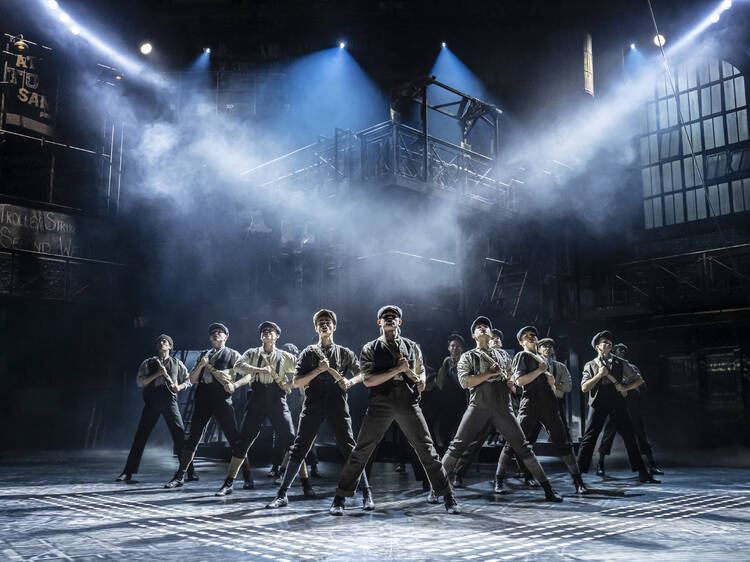 ✡ till June 25 at Troubadour Wembley Park Theatre, Wembley
Highlights
Olivier Award-winning musical now in the UK
Performing at the Troubadour Wembley Park Theatre
Tickets from just £16.50!
Imagine a cross between 'Annie', 'Les Miserables', and one of those elaborate gymnastic-based spectacles staged by communist countries and you're halfway there to imaging Disney's cult classic musical 'Newsies' about striking that has finally hit the UK. The Troubadour Theatre's high-octane production captures all its vigorous spirit, sending its huge cast of plucky, rebellious paperboys tumbling and leaping across its mammoth stage as they stand up to the big bosses who are determined to grind them down.
Need to know
This is valid for a ticket to Disney's Newsies at Troubadour Wembley Park Theatre.
This booking is only valid for your selected date/time option and band.
E-tickets will be sent directly from the box office via email, please present your tickets upon arrival at the venue. If you do not receive your e-tickets by the day of your performance, please contact the box office via wptboxoffice@kxtickets.com, for assistance.
Time Out booking confirmations cannot be used to gain entry as seats are allocated by the box office and not by Time Out. Customers purchasing multiple tickets in the same transaction under the same name will be sat together.
Doors open 30 minutes before each performance. The show runs approximately 2 hours 30 minutes, including interval.
Location: 3 Fulton Road, Wembley Park, Wembley HA9 0SP.
This voucher cannot be cancelled, amended, exchanged, refunded or used in conjunction with any other offer.
6. 'Crazy for You'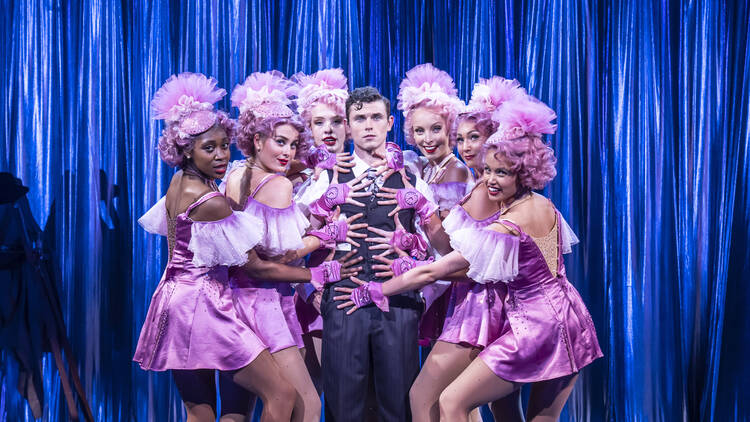 ✡

Theatre

✡
Musicals

✡
Covent Garden

✡
The legendary Susan Stroman directs this massive new West End production of the beloved retro musical
'Crazy for You' is a golden age musical comedy that's actually from 1992: writer Ken Ludwig took a load of classic songs by George and Ira Gershwin – largely from the 1930 musical 'Girl Crazy' – and spun them into a shimmeringly delightful retro confection that's almost indistinguishable from the era it's paying homage to, the odd knowing flourish aside. Following Bobby Child, a rich banking scion who must – for complicated reasons – stage a successful musical in a backwater Nevada town in order to win over the woman he loves, it's a loving tribute to a bygone era of great American musicals that probably seemed more distant in the Lloyd Webber-dominated early '90s than it does now.
The original production was choreographed by the great Susan Stroman; for this revival – which has already played to great acclaim at the Chichester Festival Theatre – she also directs a cast headed up by Charlie Stemp and Tom Edden.
Address: Gillian Lynne Theatre. 166. Drury Lane (corner of Parker Street), London. WC2B 5PW
Transport: Tube: Covent Garden/Holborn
7. Gouqi
Chef Tong Chee Hwee, who helped earn Mayfair Chinese spot Hakkasan its Michelin star is back on the London food scene cooking up elevated and refined dishes using techniques and ingredients from across China at Gouqi. Try the Angus tenderloin beef with black pepper sauce, sautéed crystal jumbo prawns with yellow chive in XO sauce, or clay pot silken egg tofu with wild mushroom and vegetable for yourself with this eqclusive deal letting you enjoy top-tier dining for just £45 per person.
Highlights
Three courses of Chinese fine dining from seven Michelin-starred chef Tong Chee Hwee
Plus a glass of wine
Now just £45 per person (minimum booking of two required)
Everyone loves a comeback. This restaurant marks a return to London's restaurant scene for Chef Tong, who worked across Singaporean and Malaysian restaurants, before securing a spot at Hakkasan (when the restaurant earned its Michelin star). Now, he's cementing his place as a figurehead at Gouqi, where he creates elevated and refined dishes using techniques and ingredients from across China. Enjoy top-tier dining for just £45 per person, where you indulge in dishes like Angus tenderloin beef with black pepper sauce, sautéed crystal jumbo prawns with yellow chive in XO sauce, or clay pot silken egg tofu with wild mushroom and vegetable. How dreamy does that sound?
What's on the menu?
Starter – choose one:
Crispy aromatic duck salad
Lotus root salad with courgette and black fungus (V)
Main – choose one:
Angus tenderloin beef with black pepper sauce
Sautéed crystal jumbo prawns with yellow chive in XO sauce
Claypot silken egg tofu with wild mushroom and vegetable (V)
with seasonal vegetables and steamed Jasmine rice (V)
Dessert – choose one:
Banana, Miso, Caramelised White Chocolate and Coffee
Mango, Passion Fruit and Coconut (V)
Need to know
This voucher is valid for three courses and a drink at Gouqi.
Minimum of two people to book
Availability: Monday to Friday noon – 2.30 pm, daily 5.30 pm – 6.30 pm / 9.30 pm – 10 pm. Blackout dates may apply. Subject to availability.
To redeem, please send your booking confirmation to reservations@gouqi-restaurants.co.uk or call 0203 771 8886 with your preferred date and time. Your voucher, security code and QR code must be clear.
Please present your voucher upon arrival.
Voucher valid until > July 30, 2023.
Menu subject to change. Offer includes house wine only.
Please inform the restaurant of any allergies or dietary requirements in advance.
The restaurant must be informed of any changes/cancellations within 48 hours of your booking. If the booking is cancelled after this time, the voucher will be deemed to have been redeemed for the current booking and cannot be used towards a new booking.
Dress code is smart casual.
Prices and menus online are subject to changes.
Gouqi is located opposite the Canadian Embassy on Cockspur Street, and next to Trafalgar Hotel.
Location: 25-34 Cockspur Street, London, SW1Y 5BN.
This voucher cannot be cancelled, amended, exchanged, refunded or used in conjunction with any other offer.